[rev_slider_vc alias="magento-hosting"]
Patches & Updates
We apply the latest Magento patches, plugin updates and ensure everything continues to work smoothly so you can focus on your business and sales.
Backups & Security
We've a range of backup options to keep your data, customers and sales safe and secure. We'll also get you back up and running in a flash should the worst happen.
Hosting & Migration
Specialist hosting developed exclusively for Magento with <1 second page loads. We also bring years of experience migrating your data into and out of Magento.
Fully Managed Magento Hosting
Monthly
Our combined support & hosting packages include the following products and services as standard:
Security patches applied
Daily security scans
Assistance with disaster recovery
Daily local backups
Daily off-site backups
Uptime monitoring
Analytics review
SEO recommendations
Site speed monitoring
Troubleshooting
Clear, friendly advice and support when you need it
UK based team
Limited Time Offer
We are confident you'll love working with us and be happy with the extra ideas, knowledge and support we can bring to your business. For a limited time we are inviting new customers to try us out for free.
As such, we'll work with you to duplicate your site to our super fast Magento hosting servers for free. You can get a feel for exactly how we work, you can see how much faster your site runs and if you don't want to go any further you don't have to pay a penny.
All prices are excluding VAT. These are the 'from' prices and may be higher for particularly complex or high traffic online stores.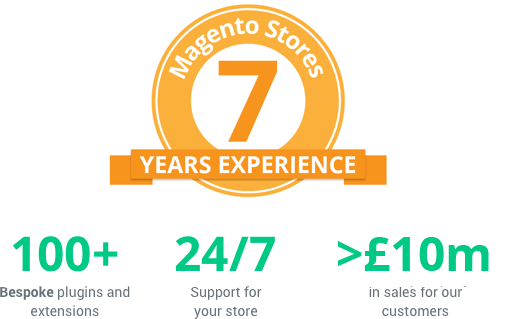 Why our customers choose us
Understanding how your customers interact, their buying habits, what works and what doesn't for your specific industry is essential for your store to reach it's full potential. Quite simply we can bring you the difference between just 'another online store' and a successful one.
When you work with our highly experienced Magento e-commerce team (based in the south of the UK by the way) we can significantly grow your online retail business. We've generated over 7 million for our customers and that continues to grow every day. Let us do the same for you.